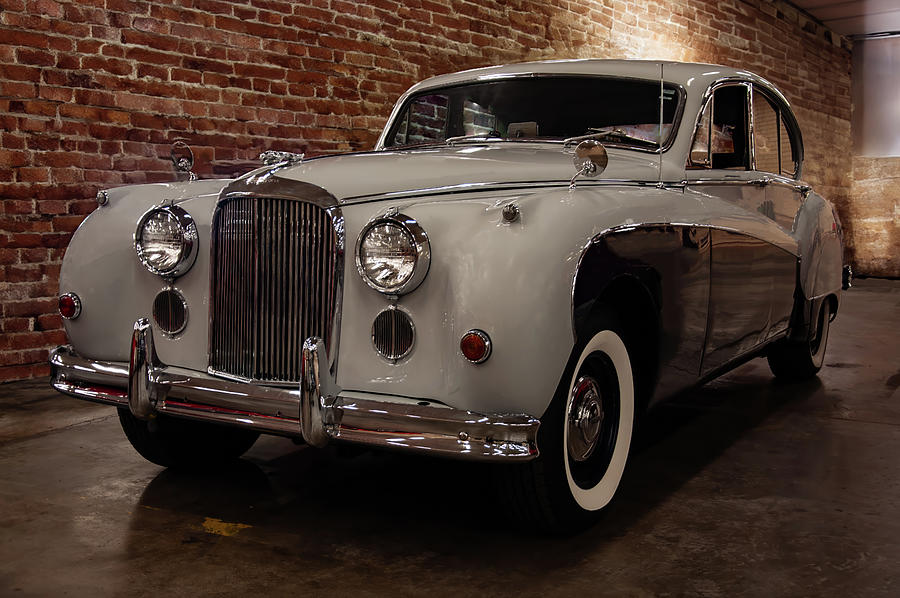 Medium
Photograph - Home Decor And Giclee Wall Art By Chris Flees
Description
The 1961 Jaguar Mark IX, also known as the Jaguar MK IX, was a luxury sports saloon produced by the British automaker Jaguar Cars. Here are some key facts, production numbers, and innovations associated with the 1961 Jaguar MK IX:

1. Overview:

The Jaguar MK IX was part of Jaguar's Mark series of luxury cars, known for their combination of elegant styling, high performance, and luxurious interiors.
2. Body Style:

The 1961 Jaguar MK IX was primarily available as a 4-door saloon (sedan) body style.
3. Engine:

The MK IX was powered by a 3.8-liter inline-six-cylinder engine. This engine was capable of producing around 220 horsepower, providing strong performance for the time.
4. Transmission:

The standard transmission for the MK IX was a 3-speed automatic, providing smooth and comfortable cruising.
5. Production Numbers:

Exact production numbers for the 1961 Jaguar MK IX can be challenging to find, as Jaguar didn't always provide detailed production data for specific model years. However, it's estimated that a relatively small number of MK IX cars were produced compared to some of Jaguar's other models.
6. Innovations:

The 1961 Jaguar MK IX featured several innovations and advanced features for its time, including:
Independent front suspension for improved ride and handling.
Disc brakes on all four wheels, which was a notable safety and performance feature at the time.
Luxurious interior with leather upholstery, wood veneer trim, and high-quality materials, emphasizing comfort and elegance.
Dual overhead camshaft (DOHC) engine design, which was known for its smooth and efficient power delivery.
Classic Jaguar styling with a distinctive grille, curved rear fenders, and an overall sleek and sophisticated appearance.
The Jaguar MK IX was considered a top-tier luxury car during its era and catered to those who desired both performance and refinement.
Uploaded
September 21st, 2023
Statistics
Viewed 108 Times - Last Visitor from New York, NY on 12/07/2023 at 10:59 AM