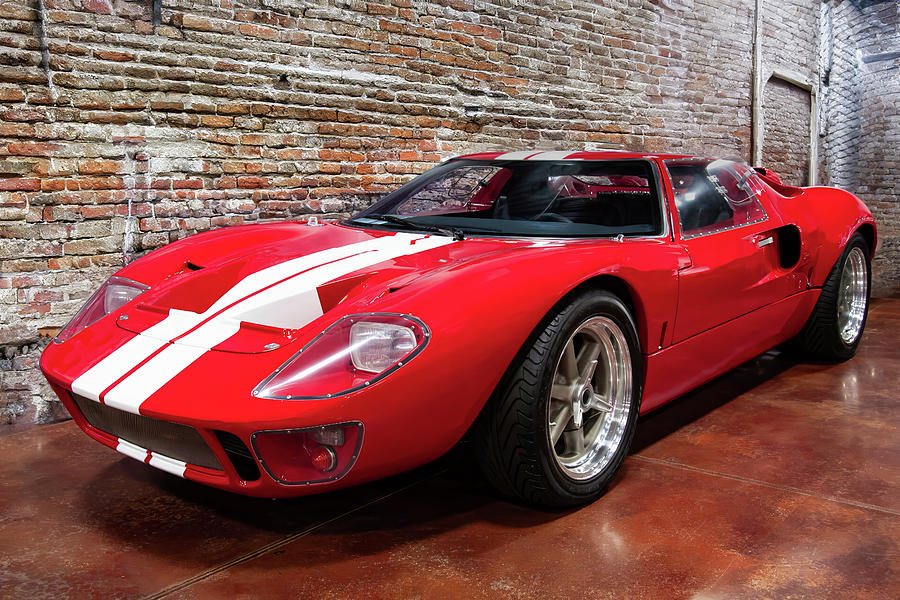 Title
1966 Ford GT 40 - 003
Medium
Photograph - Home Decor And Giclee Wall Art By Chris Flees
Description
The 1966 Ford GT40 holds a significant place in automotive history due to its racing success and engineering achievements.

History:
The Ford GT40 was developed by Ford to compete in endurance racing, particularly to challenge the dominance of Ferrari at the 24 Hours of Le Mans. The name "GT40" originated from "Grand Touring" and the car's overall height of 40 inches.

Facts:

Design: The GT40 had a low-slung, aerodynamic design, and it was built with a focus on performance and speed. It had a mid-engine layout to optimize weight distribution and handling.

Engine: Initially, the GT40 was equipped with a variety of engines during its evolution. The 1966 GT40 Mk II was powered by a 7.0-liter (427 cubic-inch) V8 engine, producing around 485 to 500 horsepower, depending on the tune and race configuration.

Racing Success: In 1966, the GT40 Mk II achieved significant success by winning the 24 Hours of Le Mans, securing a 1-2-3 finish. This victory marked the first overall win for an American manufacturer at Le Mans, solidifying the GT40's place in motorsport history.

Innovations: The GT40 was an innovative racing car for its time, featuring advanced engineering, such as its monocoque chassis construction, advanced aerodynamics, and mid-engine configuration. These innovations contributed to its success on the race track.

Production Numbers:
Production numbers for the GT40 were relatively low, primarily because it was a purpose-built racing car rather than a mass-produced road car. Specific figures can vary depending on the different iterations and models. Approximately 87 GT40 Mk II cars were produced in total.

Legacy:
The 1966 Ford GT40's triumph at Le Mans remains one of the most memorable moments in motorsport history. Ford's victory was a significant achievement and an essential chapter in the rivalry between Ford and Ferrari during the 1960s.

The Ford GT40's success in motorsport, its engineering innovations, and its iconic status as a race car have contributed to its enduring legacy. Later versions and modern iterations, such as the Ford GT released in the 2000s and 2010s, pay homage to the original GT40's design and racing pedigree.
Uploaded
November 17th, 2023
Statistics
Viewed 145 Times - Last Visitor from New York, NY on 12/05/2023 at 9:18 PM