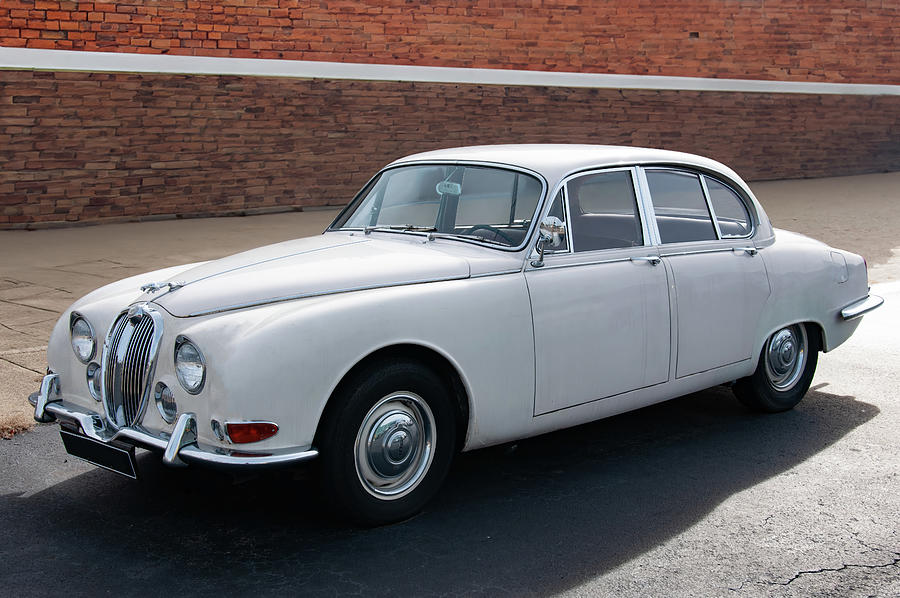 Title
1966 Jaguar 3.8 S-type - 002
Medium
Photograph - Home Decor And Giclee Wall Art By Chris Flees
Description
The 1966 Jaguar 3.8 S-Type is a classic British luxury sports saloon with a unique history, notable facts, and some innovations. While I don't have access to real-time or external sources, I can provide information based on knowledge available up to September 2021:

History:
The Jaguar S-Type was introduced in 1963 as a luxury sports saloon. The 3.8 S-Type was one of the engine options available during its production.

Facts:

Engine: The 1966 Jaguar 3.8 S-Type was powered by a 3.8-liter inline-six-cylinder engine, producing approximately 220 horsepower. This engine was known for its smoothness and refinement.

Transmission: It typically came with a four-speed manual transmission, although an automatic transmission was also available as an option.

Design: The S-Type featured a classic Jaguar design, with a graceful, sweeping body and a distinctive front grille. It offered a spacious and luxurious interior with wood veneer trim and leather upholstery.

Performance: While the 3.8 S-Type wasn't a high-performance sports car, it offered a smooth and comfortable ride, making it an excellent choice for long-distance cruising.

Production Numbers:
The production numbers for the 1966 Jaguar 3.8 S-Type can vary depending on the source. These vehicles were produced in limited quantities compared to more mainstream models. To obtain precise production figures, it's best to consult authoritative sources, Jaguar's official records, or Jaguar enthusiasts' clubs.

Innovations:
The 1966 Jaguar 3.8 S-Type incorporated some innovative features for its time:

Independent Rear Suspension: The S-Type featured Jaguar's independent rear suspension, which contributed to its comfortable ride and handling, setting it apart from many other saloon cars of the era.

Luxurious Interior: The S-Type boasted a well-appointed interior with wood veneer trim, leather upholstery, and numerous comfort features. It offered a high level of luxury for its time.

Classic Jaguar Styling: The car's design, including the iconic Jaguar grille and distinctive curves, reflected the brand's heritage and styling, making it instantly recognizable.

The 1966 Jaguar 3.8 S-Type is cherished by enthusiasts for its classic British luxury and style. It represents a unique period in Jaguar's history when the company produced elegant saloon cars with a sporty flair. To access the most accurate and detailed information, please refer to authoritative sources specializing in classic Jaguar cars and automotive history.
Uploaded
November 8th, 2023
Statistics
Viewed 155 Times - Last Visitor from Wilmington, DE on 12/04/2023 at 4:08 AM